The Best Places to Elope in Western North Carolina
Yay! You're eloping! This gives you the chance to exchange your vows in a unique and intimate way without the fuss and expense of a large wedding. Planning the details of your big day can be difficult, especially if you're not familiar with the area, so this guide lists my top favorite places with photos and details about each.
There are a lot of gorgeous venues you can book for smaller weddings but if you're searching for something a little different for you and your loved one (and possibly a small group of friends + family) below are some of the most picturesque places the Blue Ridge mountains have to offer.
Planning Your Trip
The map below shows pinpoints of each location so you can get an idea of where they are and plan your stay. While each location distance is listed in relation to Asheville; Boone, Waynesville, and the other small towns in the area are all great choices! Each have delicious restaurants and lots of things to see and do. I'd recommend checking into Airbnb or VRBO rentals.
Things to note
If you're getting married on the Blue Ridge parkway it's a good idea to have a back up plan in place. There's often road closures, especially November through April, and rock slides or downed trees can also affect the road at any other time of year. See a real time map of closures by clicking here.
The parkway requires a $100 permit you can apply and pay for through this link as well as view FAQ about the number of guests you can have, location limitations, rules, etc. For example- the parkway asks that you not bring flowers or bouquets because they can introduce invasive species of insects and plants to the ecosystem up there.
At the time of this post the parkway is not issuing permits for the month of October.
If you're planning your big day for the fall, know that these areas have a lot of tourist traffic on the weekends during that time of year. I'd recommend a week day or early morning wedding if you're up for it.
All of these places are public land. While there isn't the option to reserve them to yourself, there are plenty of good spots at each that are quiet and will give you plenty of privacy.
Setting a Timeline
I aim to end all smaller weddings at sunset. From my perspective as a photographer sunset is the best time of day to capture beautiful, flattering light and show off the mountains in all their glory. I like to spend half an hour with just the couple, scheduled to end when the sun goes down, and count backwards from there to plan the schedule for the day.
Distance from Asheville: 45 minutes

Hike: 1.5 miles round trip

Part of the Blue Ridge Parkway
Craggy is a very popular choice for couples because of it's close proximity to Asheville and easy hike. The BRP doesn't allow permits for the trail as there are many hikers that come through that area, but you can get married at the gardens a short distance away and then go up to the pinnacle for photos. There's also Craggy Flats, a shelter near the visitor center with easy access, or Glassmine Overlook nearby.
The base of the trail starts just off the parking lot, and after an initially steeper climb it levels out and is an easy walk to the top. There's two main overlooks, a field, and gorgeous wooded area along the path. There are no bathrooms here, but there is a visitor center close by with facilities available.
Craggy is at its best April to October. Spring, summer, and early fall are lush and green while the winter is very brown up there. It's a very popular place, so I'd recommend planning an early morning or week day wedding if at all possible.
**PLEASE NOTE Many of the blog post links listed below show photos of couples on a rock that juts out over the mountain. I shot these before I learned about the fragile plant habitat that grows on only those rocks, and nowhere else in the world. For this reason the parkway asks people not to climb on them and I no longer take people out there. However, there are still equally gorgeous spots all around the area!
Jade and Bradley | Mandi and Griffin | Heather and Caleb | Blythe and Jeff
2. Black Balsam Knob
Distance from Asheville: 1 hour

Hike: 3 miles round trip- optional to go entire distance

Location at the base for ceremony
A grassy, bald mountain with 360 degree views and a beautiful pine forest at the base. Hike is pretty easy and going all the way to the top is optional. At 6000 feet in elevation it's always cooler than in town so don't forget your sweater! Black Balsam has bathrooms at the base of the trail near the parking area.
Fun fact: Even though Black Balsam Knob is located just off the Blue Ridge Parkway it is technically part of Pisgah National Forest. So a permit is not required.
Carolyn | Shana & Brian | Stacy & Spencer | Samantha & Andre | Jeanni & Trent | May Family | Kathryn & Ian
3. Roan Highlands
Distance from Asheville: 1 hour + 30 minutes

Hike: 1 mile round trip. Further optional

Location at the base for ceremony
Similar to Black Balsam, the Highlands have a trail that winds through a pine forest before coming to a series of bald top, rolling hills, with views for miles on all sides. Easy climb to the first hill.
4. Max Patch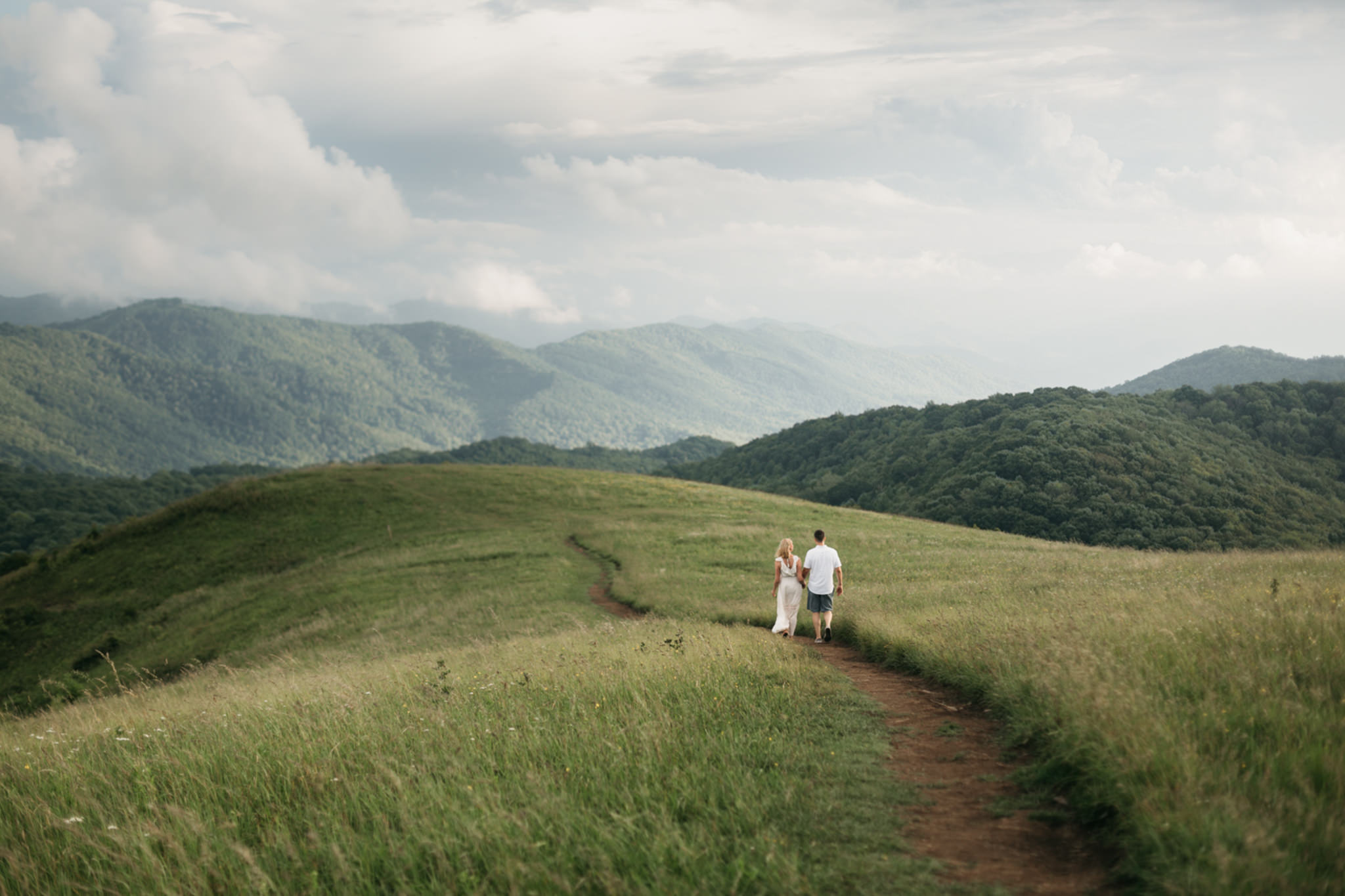 Distance from Asheville: 1 hour + 15 minutes

Hike: 1.5 mile loop

Location at the base for ceremony
A field on top of a mountain along the Tennessee and North Carolina border that spans 350 acres and intersects with the Appalachian Trail.
Mary & Joel | Lauren & Melissa | Emily & Parks
5. Chestoa Overlook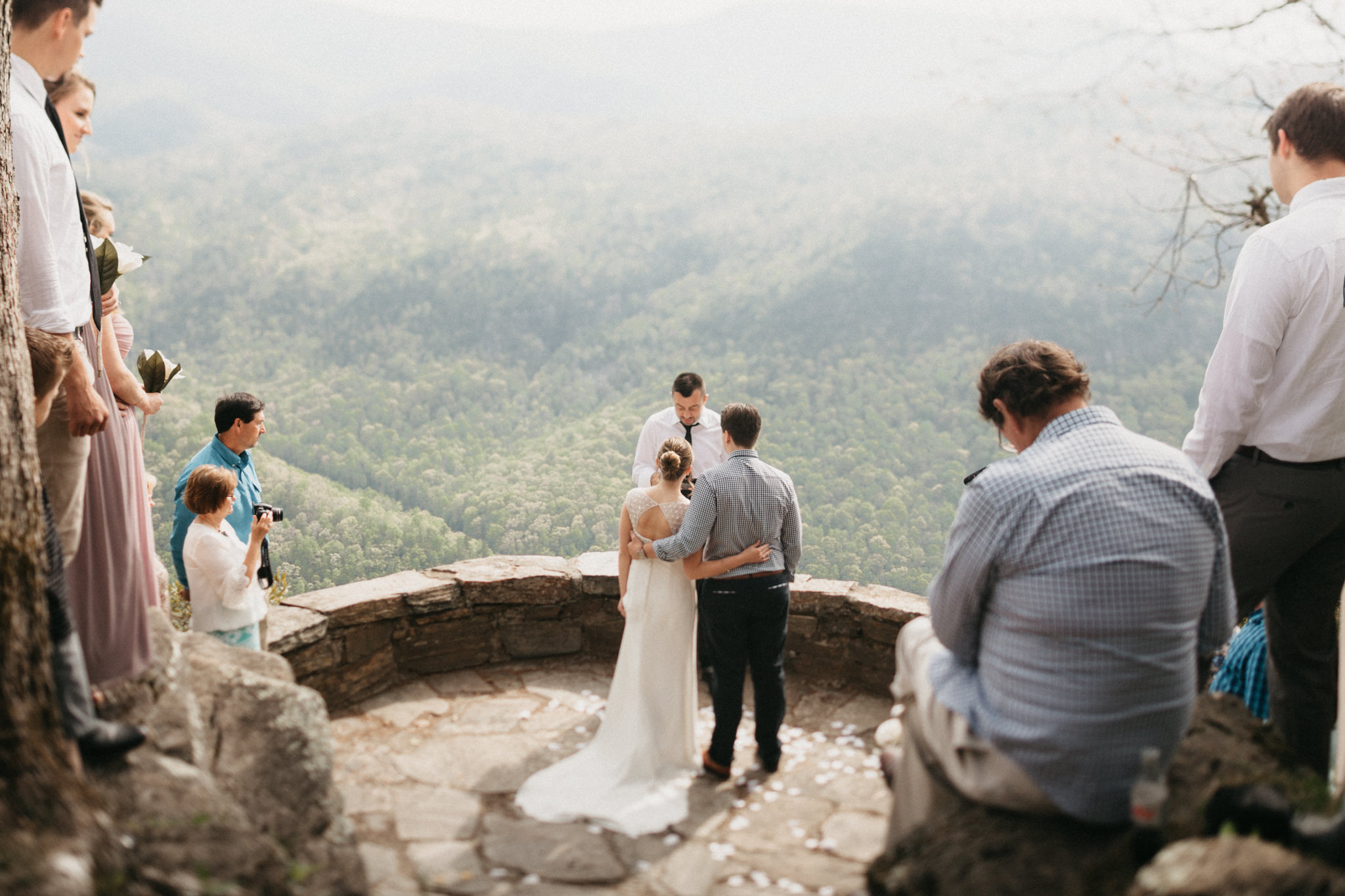 Distance from Asheville: 1 hour + 15 minutes

Hike: None

Located along the Blue Ridge Parkway
A rock patio overlook just outside of Linville, NC. Private and quiet, easy to access and panoramic views of Table Rock and the gorge. Perfect for a small ceremony.
6. Rough Ridge Lookout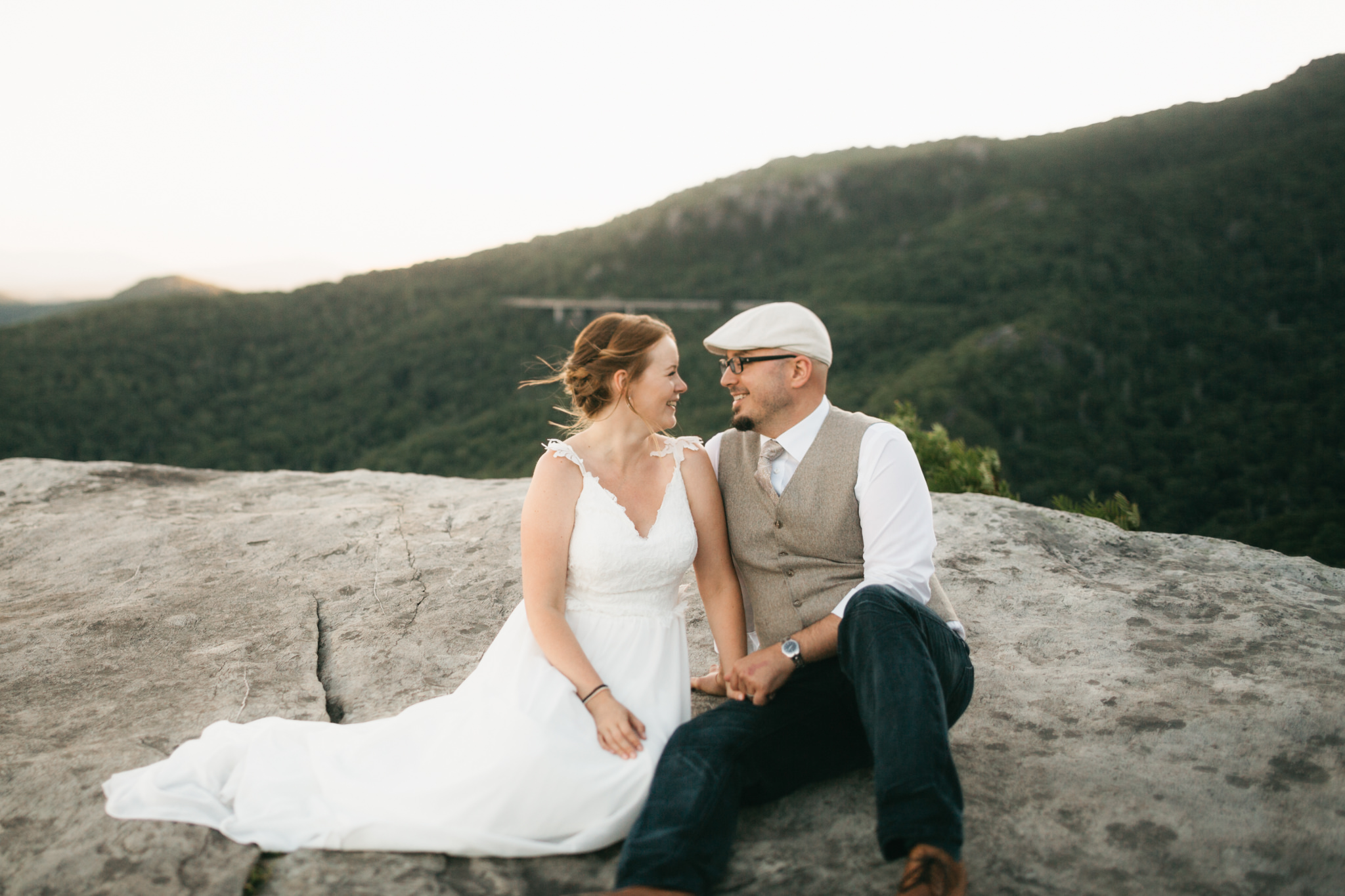 Distance from Asheville: 1 hour + 15 minutes

Hike: .75 miles round trip, further optional
Also close to Linville, Rough Ridge's trail starts just off the parkway and only 1/3 of a mile up opens up to beautiful views and a large, flat rock perfect for a ceremony. 1/2 a mile further up the trail ends at the top.
7. Linville Gorge Wilderness
Distance from Asheville: 1 hour + 30 minutes

Hike: 1.5 miles round trip, depending on which trail you decide to take

Location at the base for ceremony
There are a few different rocky mountaintops that open up to incredible panoramic views of the Linville Gorge. It's a strenuous hike in areas, and not for those out of shape, but well worth it when you reach the peaks.
Other great options
Looking Glass Falls

Bearwallow Mountain

Wiseman's View

Moore's Cove

Buck Spring Overlook

Glassmine Overlook
Small venues to consider
FAQ
Can my grandmother do this hike?
The short answer is simply I don't know, because I don't know your grandmother. It really depends on the person. If you have elderly people or folks out of shape attending your ceremony it might be a good idea to plan that part for the bottom of the trail to keep things easy for them. Most of the options above have places that would be perfect for that.
Afterwards you and your new spouse can hike up to the top for photos of just the two of you.
Where should I get dressed?
It's probably best to get ready before you arrive at the location. Many of these places are only a parking area and trail, very few have restrooms or ideal places to change. Wear comfortable shoes and pick a dress you can easily walk uphill in :)
Are there travel fees?
There's no travel fee to the locations listed above. If you're getting ready in in town, and want photos of that before we get to the location you've chosen, I'm happy to meet you there first.
Who do you recommend to officiate my ceremony?
Will you help me plan my schedule and where to go?
Most definitely! Send me a message if you'd like to chat further.